Final Fantasy XII: The Zodiac Age – Collector's Edition im Square Enix Store vorbestellbar
Im Juli erscheint die HD-Neuauflage von "Final Fantasy XII: The Zodiac Age" für die PlayStation 4. Das Spiel wird sowohl in einer Limited als auch in einer Collector's Edition erhältlich sein. Letztere ist ab sofort exklusive im Square Enix Online Store für 199,99 Euro vorbestellbar.
Inhalt der Final Fantasy XII: The Zodiac Age – Collector's Edition:
Mini-Büstenset "Hohe Richter": Büsten der Richter Bergan, Drace, Gabranth, Ghis und Zargabaath. Exklusiv erhältlich in der Collector's Edition und nicht separat zu kaufen.
Soundtrack-CD mit der Musik des berühmten Komponisten Hitoshi Sakimoto
Steelbook mit exklusivem Design, das nur in der Collector's Edition enthalten ist
Set aus sechs gedruckten Karten: Vaan, Ashe, Basch, Fran & Balthier, Penelo sowie die Welt von Ivalice
DLC mit Hintergrundmusik: Fans können sich im Spiel den ursprünglichen Original-Soundtrack von Final Fantasy XII anhören
Bei der Limited Edition ist das Spiel in einem exklusiven Steelbook mit Illustrationen des berühmten Künstlers Akihiko Yoshida (Final Fantasy Tactics, Final Fantasy XIV, NieR: Automata) verpackt und beinhaltet einen DLC mit zusätzlicher Hintergrundmusik.
Fans, die das Spiel digital im PlayStation Store vorbestellen, erhalten ein statisches Design für das Menü der PS4 und vier Tracks des Komponisten Hitoshi Sakimoto, die zum Release des Spiels freigeschaltet werden.
Außerdem dürfen sich Spieler von World of Final Fantasy auf die Ankunft von Balthier aus Final Fantasy XII freuen. Denn der Held wird ab dem 23. März als herunterladbarer Erlöser im Spiel verfügbar sein. Weitere Informationen folgen zu einem späteren Zeitpunkt.
Final Fantasy XII: The Zodiac Age erscheint am 11. Juli exklusive für PlayStation 4.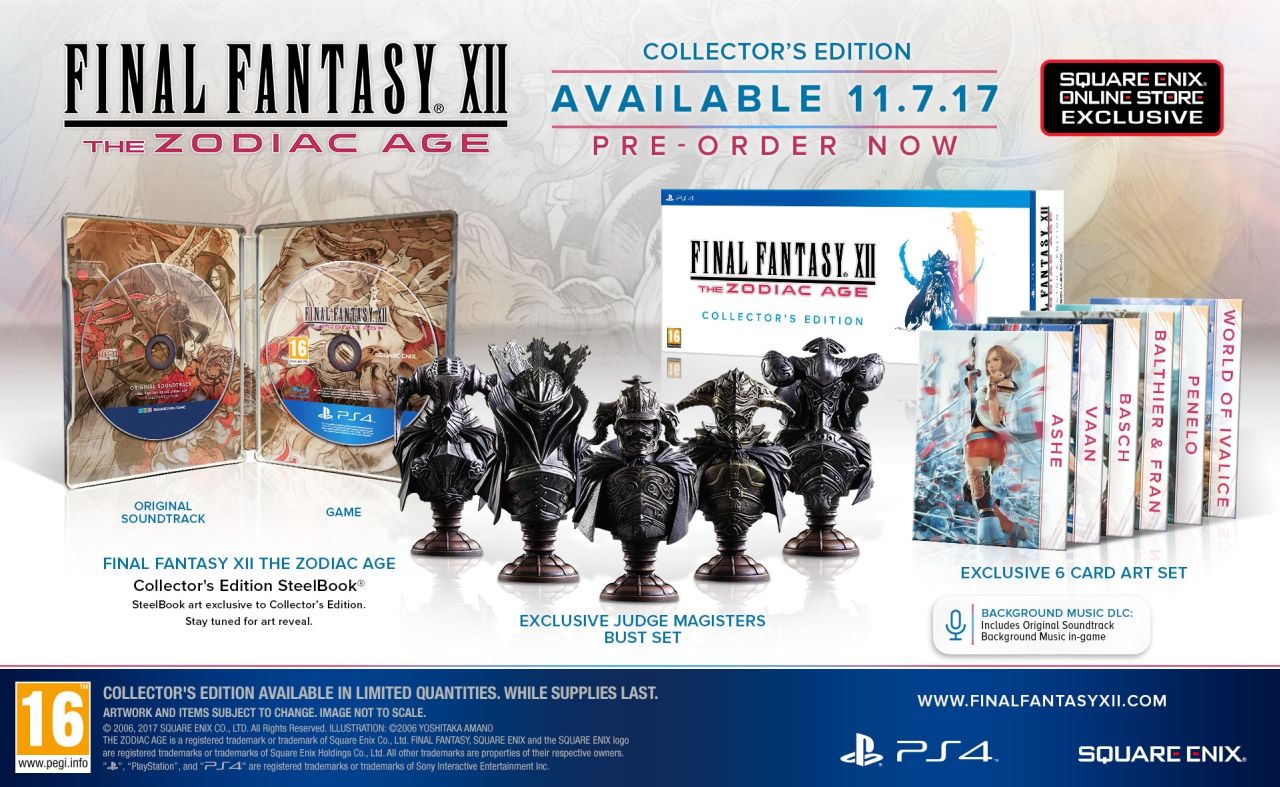 Quelle: Pressemitteilung